August
---
Width: 115cm
Height: 98cm
Depth: 36cm
Free delivery + 2 years of warranty
---
Delivery: up to 30  work days
Description
Bioethanol fireplaces are decorative fireplaces. It is for this reason that they are almost always cheaper and easier to maintain than standard wood fireplaces.
August is a freestanding bioethanol fireplace made of white MDF material. The firebox is made of black matt painted steel.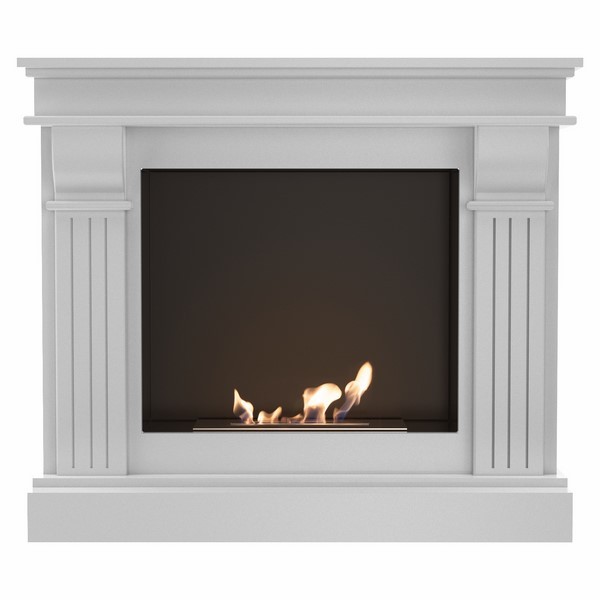 Basic information
Fuel: bioethanol – ecological fuel with 96% of alcohol
Weight: 67 kg
Width: 115cm
Height: 98cm
Depth: 36cm
Colour: white
Burner capacity: 1.8 l – enought for 3-6h of burning (depending on the size of the flame)
Flame regulation: yes
Technicl draft
Eco fireplace is an ideal solution because it gives the atmosphere of an open fireplace (live and real fire in the room) without hard work around procurement, storage, drying, wood intake, cleaning and removal of ash and without increased amount of dust in the room.
What are ethanol fireplaces?    
They are a special type of fireplace that uses a natural and renewable energy source as fuel – bioethanol! Each model of such fireplaces is designed to fit into a lot of different styles. These fireplaces do not serve for heating but only as a decorative solution for landscaping.
Vrste eko kamina    
Advantages of ethanol fireplaces
They attract the attention of all visitors!
It is simply impossible not to notice the fireplace in the room. Fire has always fascinated people and that is why the fireplace is an ideal choice for apartments, hotels, cafes, restaurants, cottages …
It has been scientifically proven that fire has a special effect on humans. Looking at the fire relaxes and soothes the body. That is why fireplaces are the ideal company for the end of a hard working day or socializing with the family …
No worries about burning and creating smoke.  Ethanol fuel – 96% alcohol, its combustion product is carbon dioxide (CO2) and water (H2O). This is exactly what a person normally exhales.
No harmful combustion products!
Unlike classic wood fires, a bioethanol fireplace does not emit harmful gases into the atmosphere! 
They create a romantic atmosphere in an instant
The flame awakens passion and in combination with a special dinner and a glass of your favorite wine it provides such a romantic atmosphere that it does not leave anyone indifferent. Surprise your loved one …
Visually elevate the room to a whole new level!
If you are planning to change the interior, these fireplaces are exactly what you are looking for. Choose from over 60 different fireplace models …
No need for complicated installation and adaptation!
This type of fireplace is easy to install unlike the classic ones where expensive and complicated works are required.
Freestanding fireplaces of modern design do not require additional adaptation of space. Simply place this type of eco fireplace where you want it and they are ready to use!
Maintenance is simple and no different from maintaining other furniture.
Guaranteed safety
The top quality of the burners (cartridges) and the composition of quality bioethanol ensure safe use. When burning bioethanol (ethyl alcohol base), complete combustion occurs so that there is no smoke or other potentially harmful substances or an unpleasant odor.
How to order?
Click on "ORDER" and it will redirect you to the shopping cart page
If you want to add something else to the cart, click on "Continue shopping"
Click "CONTINUE ORDER" to continue the order.
Enter your details and click on "ORDER"
Payment and delivery
Payment is immediately before delivery or at pick-up (Zagreb and surroundings)
Delivery time is 2-3 weeks
We will inform you before delivery by phone call or text message
Additional information
| | |
| --- | --- |
| Weight | 67 kg |
| Dimensions | 36 × 115 × 98 cm |